Vinayaka Chaturthi 2023: Celebrating Lord Ganesha's Divine Blessings
Vinayaka Chaturthi is commonly known as Ganesh Chaturthi. It is a Hindu festival honouring Lord Ganesha. Lord Ganesha is Lord Shiva's and Goddess Parvati's cherished son. This ten-day celebration is full with prayers, rites and festive festivities. It is celebrated with zeal and commitment.
Let us know more about the specifics of Ganesh Chaturthi 2023. In this article we will learn about the significance and how people are celebrating this auspicious day.
Vinayaka Chaturthi 2023 importance
Lord Ganesha is recognised as the god of fresh beginnings, knowledge and intellect. Furthermore, he is known as the remover of barriers. His devotees worship him with a variety of names. These names includes Ganpati, Vignharta, Gajanana, Vinayaka, and others.
Each name is representing a distinct facet of his heavenly identity. The Ganesh Chaturthi event is thought to bring wealth and good fortune. Praying to Lord Ganesha is said to remove barriers from one's life. It is said that when you pray to Lord Ganesha with clear heart, he grant insight and intellect to his devotees.
Vinayaka Chaturthi 2023 Date and Time
Ganesh Chaturthi is also known as Vinayaka Chaturthi. It is celebrated on the fourth (chaturthi) day of the Bhadrapada month. It usually falls in the months of August or September. This calculation is according to the Gregorian calendar.
Ganesh Chaturthi will be celebrated on Tuesday, September 19, 2023. The most auspicious time for Ganesh Chaturthi puja is believed to be during madhyahna, which begins at 11:01 a.m. on September 19 and lasts till 01:28 p.m. On Thursday, September 28, 2023 is the visarjan. Visarjan is immersion of the Ganesha statues.
Vinayaka Chaturthi 2023 Celebration
On Ganesh Chaturthi 2023, people install Lord Ganesha idols in their homes, temples and pandals. The festivities begin with the pranapratishtha, a rite that brings the idols to life. This is followed by the shhodashopachara, in which worshippers pay their respects to the god in 16 distinct ways.
Offerings to the Lord include flowers, durva (a kind of grass), karanji (a sweet delicacy), modaks (Ganesha's favourite sweet), coconut and jaggery.
As per many learned people it is advised to chant mantras and melodies to Lord Ganesha. Devotees ask Lord Ganesha for health, wealth and wisdom. Devotees fast on this day in order to show their devotion.
Visarjan – Ganesha Idol Immersion
Anant Chaturdashi is the tenth day of the festival. It is the same day when we perform visarjan. This day worshippers bid farewell to Lord Ganesha with spectacular processions.
Thousands of people participate in these processions. The devotees sing and dance as they bring Lord Ganesha's statues to surrounding water bodies for immersion. It is believed that as the statue dissolves in the river, Lord Ganesha is said to return to Kailash to join his parents. Lord Ganesha is son of Lord Shiva and Goddess Parvati.
The immersion also represents removing hurdles from one's life.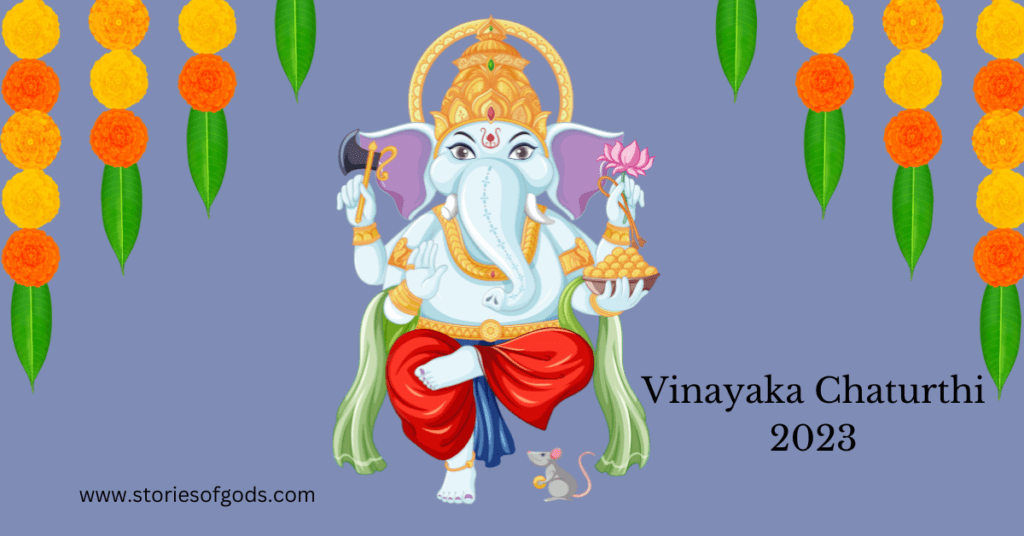 Why should you not see MOON on Vinayaka Chaturthi 2023?
According to mythology a glance of the moon on Ganesh Chaturthi might bring the Mithya Dosha. Mithya Dosha is a curse that results in false allegations of theft. As a result on this day worshippers avoid staring at the moon.
Best wishes of Vinayaka Chaturthi 2023
May Lord Ganesha bless you and your family with happiness, prosperity and success on this auspicious day of Ganesh Chaturthi. I wish you a happy and prosperous Ganesh Chaturthi! May the heavenly presence of Lord Ganesha bring you calmness, harmony, and good fortune. Best wishes for Ganesh Chaturthi to you and your loved ones!
Do you know the benefits of Ganesha Chalisa? Read here
Ganesh Chaturthi is a happy and wonderful festival. Ganesh Chaturthi is a one-of-a-kind celebration, as people come together to rejoice in the birthday of Lord Ganesha. It's time to welcome fresh beginnings and overcome life's obstacles.
We worship Lord Ganesha and seek his blessings during this festival to express our love and devotion to him. On Vinayaka Chaturthi 2023, let us joyfully welcome Lord Ganesha into our hearts and homes. It's the ideal time to focus on getting smarter, more successful and happier in life!