What is the meaning of Riddhi Siddhi and Buddhi?
Lord Ganesha was married to Riddhi, Siddhi, Buddhi?One of the most well-known gods in contemporary Hinduism, Ganesha is revered greatly across South and Southeast Asia.
It is believed if you read Ganesh Chalisa everyday, it can give you great benefits. He is the son of the mighty gods Shiva and Parvati. Even in nations with a large Buddhist population, like Thailand, people fervently adore the deity.
Who was Buddhi?
Ganesha has four arms, the head of an elephant with one trunk, and is supported by or served by a mouse. He is frequently shown sitting down, one leg stretched out in front of him, and the other bent over.
Without the help of his father Shiva, Ganesha was created by his mother, Parvati. Ganesha and his mother have a distinct and unique bond, and according to southern Indian customs, he is celibate.
There are so many stories about Ganesha's marriage or him being a Bramcharya.

Once Tulsi Ji saw Lord Ganesh engrossed in penance when his parent were looking for a match for him, he reportedly captivated her.
At Ganapati's arrival, Tulsi Ji proposed a marriage to him, but Lord Ganesh declined, saying he was celibate.
That is why a lot of Bramcharyas still worship him. After hearing Ganapati speak, Tulsi Ji became irritated and cursed Gajanan, saying, "You'll get married twice."

(ord Ganesha was married to Riddhi, Siddhi, Buddhi?)As per another story, once Ganesh returned home and saw Maa Durga eating rice from all her ten hands.
When Ganesha asked why she was eating with all her hands, Maa Durga replied that she was worried if Ganesh's future wife would give her food to eat or not.
So she was eating food with her all hands till her heart's content.
At that time Ganesha got really upset to see her mother like that, the same minute he married a Banana tree (also called Kala Bou) as an act to assure her mother that she will never be hungry and always taken care of.

In some other parts of India, it is believed Lord Ganesha allegedly refused to wed because he believed his mother to be the most beautiful lady in the world. As a result, his mother arranged for him to wed a banana plant, a fertility symbol.
What is the meaning of Riddhi Siddhi and Buddhi?
Another story around Ganesh's marriage is, due to Lord Ganesha's physical appearance, no one was ready to marry him. Ganpati started putting up barriers in the gods' union. Because of Ganapati's actions, the gods came to Brahmaji with their issues.
Siddhi and Riddhi were daughters of which god?
Brahmaji created two lovely ladies named Riddhi (plenty, opulence, wealth) and Siddhi / Buddhi (intellectual and spiritual prowess).
Siddhi and Buddhi are two different names of the same identity. Because of two names, people confuse that Ganesh ji had three wives- Riddhi, Siddhi and Buddhi.
Lord Ganesha was married to Riddhi, Siddhi, Buddhi?
Why Ganesha married to two wives?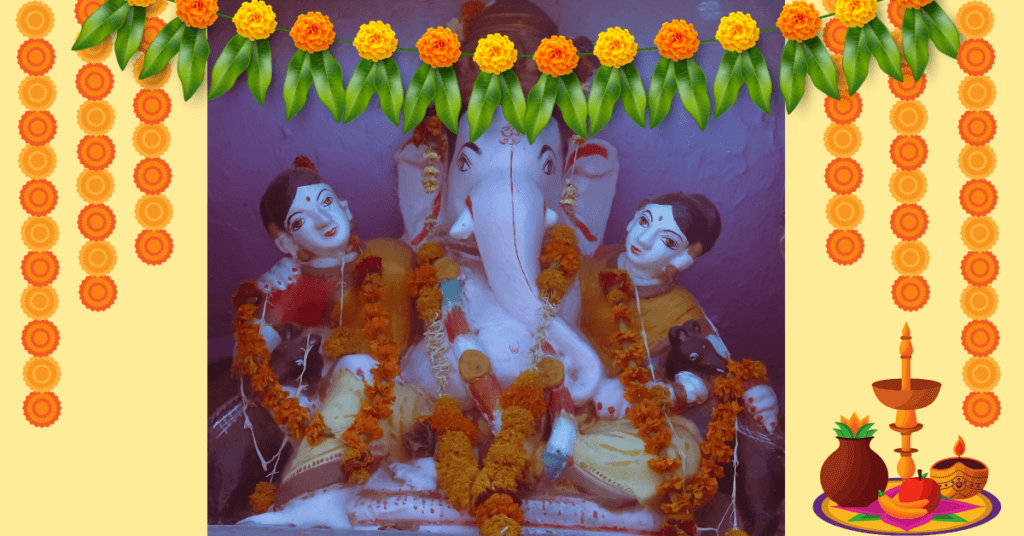 Riddhi and Siddhi, the two daughters of Brahmaji, were sent to Lord Ganesha to learn from him. Siddhi denotes spiritual strength, whereas Riddhi denotes wealth and success. On either side of Lord Ganesha are seen Siddhi and Riddhi.
Riddhi and Siddhi would divert Lord Ganesha's attention when the news of someone's marriage reached him.
All of the marriages took place without incident, but when Lord Ganesha learned of this, he became enraged and began cursing Riddhi and Siddhi.

Then, in front of Ganapati, Lord Brahma proposed to Riddhi-Siddhi. Ganesha, Lord, accepted it. Ganapati had two wives in this fashion. Shubh and Labh, two offspring born to Ganapati from Riddhi-Siddhi.