Durva and Lord Ganesha are the same?
Why is Durva offered to Lord Ganesha? Find out what is its significance Durva is offered to Lord Ganesha in temples as well as in private houses. But what exactly is Durva, and why is it significant? But what exactly is it, and why is it such an important offering? Continue reading to learn more.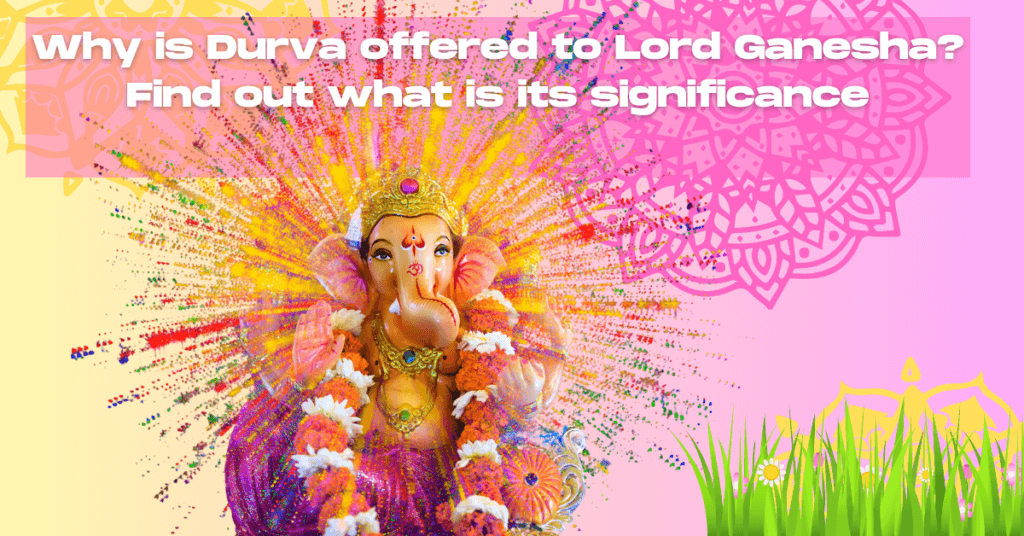 During pujas, specific offerings are presented to specific deities. Tulsi, for example, is associated with Lord Vishnu (or Lord Krishna), whilst Vilva (Bel Patra) is associated with Lord Shiva.

Durva is similarly served to Lord Ganesha at temples and even at home. But what exactly is Durva, and why is it significant?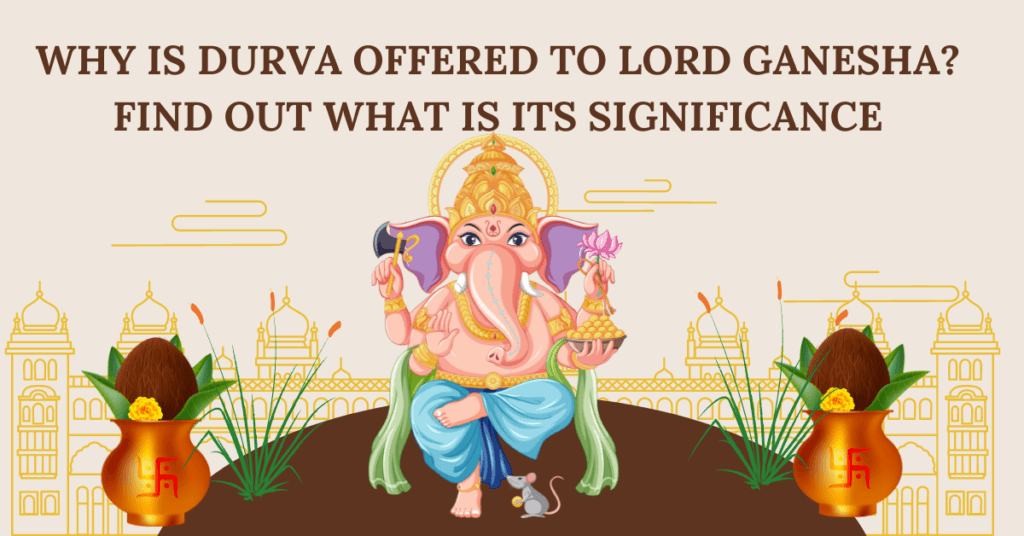 What is Durva?
In Tamil, it is known as arugam pul, while in Hindi (North India), it is known as Dhub, Durva, and Haritali. The English term for Bermuda grass is Bahama Grass. Why is Durva offered to Lord Ganesha? Find out what is its significance

It is a type of grass with odd-numbered blades and considered to have healing capabilities. It has a cooling impact on the body.
The grass is a tall grass with a single root above ground and 3 to 4 nodes that develop leaves. When the plant is pulled out, it sprouts back quickly, demonstrating the power of regeneration, renewal, and rebirth.
Why does Ganesha likes Durva?
Lord Ganesha, the son of Lord Shiva and Goddess Parvati, is known as Vighnaharta (the remover of barriers), Sukhkarta (the provider of happiness), Dukhharta (the remover of grief), and so on.
Before commencing a puja or a new work, devotees make their first prayers and offerings to Lord Ganesha. This is done to obtain Lord Ganesha's blessings and to ensure that no obstacles arise.
Intriguingly, devotees present the Durva as a symbol of devotion. But why is Lord Ganesha given Durva? Scroll down to find out more.
The Durva is said to have the ability to attract Lord Ganesha's energy as blessings. There are many stories attached to this belief.
As per one of the stories, after being cursed by a celestial woman, Lord Ganesha had a scorching feeling.
After rejecting her marriage proposal, he became a victim of the curse. To alleviate his suffering and agony, Lord Ganesha placed a few strands of the Durva on his head. Why is Durva offered to Lord Ganesha? Find out what is its significance
Lord Ganesha swallowed a demon named Analasura during a battle with him.
He freed the Universe from the demon's brutality by doing so, but he suffered severe interior burns as a result. As a result, the Gods showered him with various items in order to cure him.
According to legend, Lord Indra bestowed the Moon on Ganesha, while Lord Vishnu bestowed the Lotus. However, nothing worked for the Lord. Following that, 88,000 sages performed puja by offering Lord Ganesha 21 Durva blades.
And this donation aided Lord Ganesha in his healing. As a result, the significance.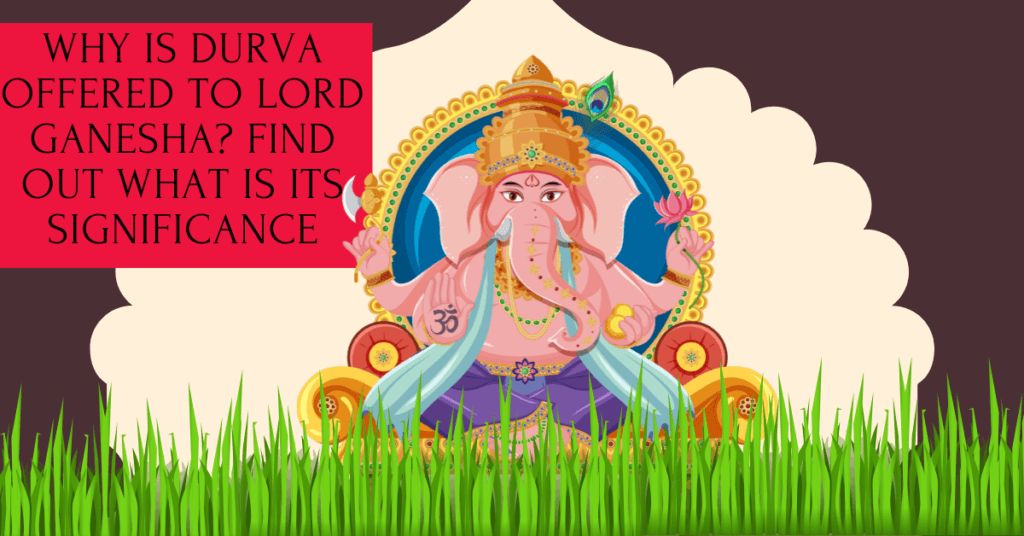 Benefits / Significance of Durva
It makes sense that Durva is a significant offering dedicated to Lord Ganesha given that it is claimed to have the highest capacity to draw the Ganesha principle.
You are going to find it surprising to learn that it has three flavours: sweet, astringent, and bitter, and that it's an excellent body coolant.

Not only that, but this grass can help to balance your Pitta and Kapha doshas while also cleaning your blood. Durva grass may treat anything from acidity to obesity, as well as enhance immunity and cure gum bleeding.
It contains a biochemical substance called Cynodon dactylon that aids in boosting the body's immunity. One of the most reasonably priced energizers and immune boosters is Durva grass.
The identical compound additionally has a hypoglycemic impact, which makes it highly successful at lowering fatigue and controlling blood sugar levels. On an empty stomach in the morning, you can begin taking in Durva grass juice with neem leaves.
For regular bowel movements, Durva juice is a great detoxifier and can be eaten on an empty stomach. Constipation is assisted while any acidity symptoms are eliminated.
Durva grass, according to Ayurveda, can significantly aid in weight loss and reduce obesity. Durva grass, one teaspoon of cumin seeds, four to five black peppercorns, and a dash of cinnamon can be blended to create a weight loss cocktail.

Take the juice with buttermilk or coconut water twice daily after straining.
How many Durva grass is offered to Lord Ganesha?
Why is Durva offered to Lord Ganesha? Find out what is its significance The majority of the time, Durva is supplied in odd numbers (minimum of 3 or 5, 7, 21, etc.). This makes it easier for Shakti to enter the idol more fully.

Typically, 21 Durva shoots are presented to Shri Ganapati. According to numerology, 2 plus 1 equals 3, or the number 21.
How to identify Durva grass?
Durva grass, botanically known as Cynodon dactylon, is a common grass, or more accurately, a common weed that may be seen growing alongside crops throughout the country.
The presence of white hair at the point when a leaf emerges from the leaf stalk (at this point, a protrusion known as the ligule is noticed) is the primary distinguishing trait of this grass. To be more specific, the ligule is the area covered with hair. The hair is visible.